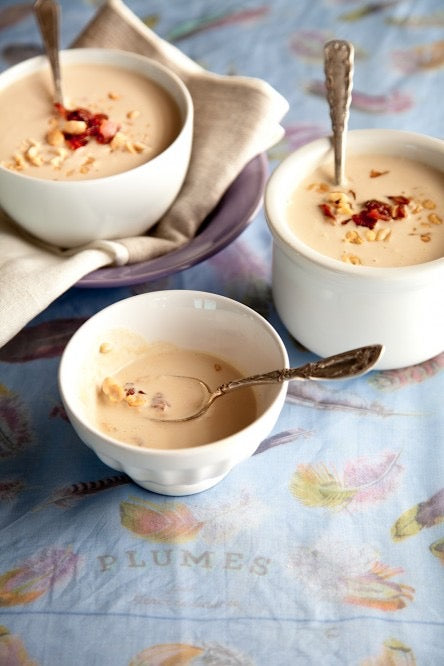 Southern Peanut Soup
A savory, creamy soup with a hint of nuttiness
(serves 6)

What you need:
6 slices thick-cut bacon, cooked crisp and chopped (reserve drippings)
1 medium sweet yellow onion, finely chopped
6 celery hearts with leaves, finely chopped
4 cups homemade chicken stock
2 tablespoons all-purpose flour
1 cup heavy cream
black pepper to taste
1 cup natural peanut butter
1 pint half and half
chopped peanuts for garnish
What to do:
1. Prepare the Aromatics: In a large saucepan over medium heat, add two tablespoons reserved bacon drippings. Stir in onion and celery. Saute for 1 minute. Cover pot and reduce heat to low. Cook for an additional 15 minutes, until vegetables are soft and translucent.
2. Boil the Chicken Stock: In a medium saucepan over medium-high heat, add chicken stock and bring to a low boil.
3. Create a Roux: Stir flour into the sauteed onion mixture and cook, stirring often, until golden with a nutty aroma.
4. Whisk Together Soup: Add the hot chicken stock to the flour mixture in a slow steady stream, whisking constantly. Whisk in heavy cream until just heated through (approximately 5 minutes). Whisk in peanut butter until fully incorporated. Heat through (approximately 6 to 8 minutes). Whisk in half and half and heat through (approximately 5 minutes).
5. Strain & Serve: Using a sieve, strain soup and ladle into bowls while hot. Garnish with chopped bacon and chopped peanuts.
Recipe By: Libbie Summers from
The Whole Hog Cookbook
Photography By:
Chia Chong
Seen:
Linen Napkin in Sand