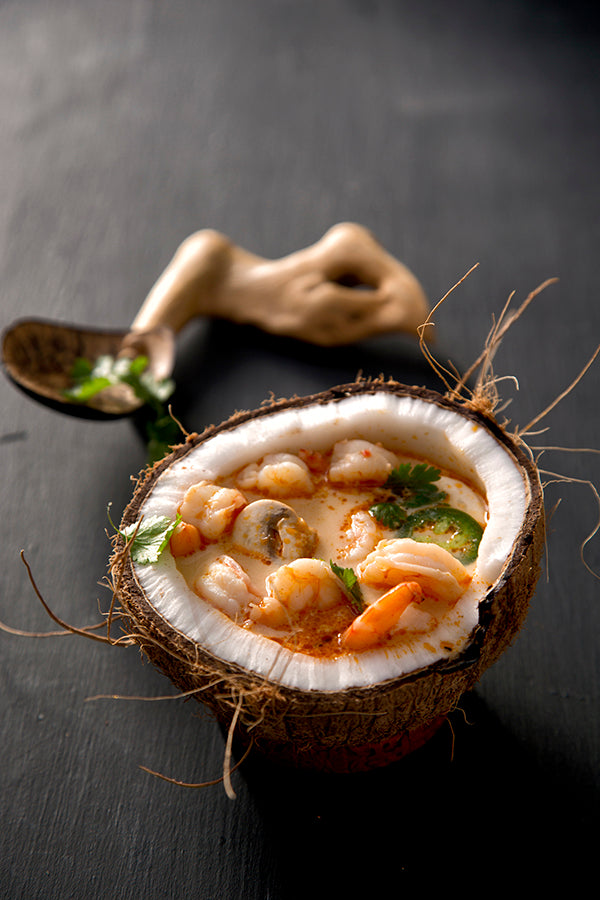 Shrimp Coconut Curry Soup
(serves 4)
Two hours in the wind and rain to watch a soccer game that ended 0–0. It may take a month to get all the mud out of the back seat. But the kids are upstairs; one showering, the other assaulting 'Ode to Joy' with a clarinet. This is what passes for peace and quiet these days. One last spoonful of hot soup, and you wonder how your mother did it.
Annapolis, Maryland
2021
Ingredients:
1 tablespoon Vegetable Oil
1 medium Onion, diced
3 cloves Garlic, minced
1/2 teaspoon Ground Cumin
1 tablespoon Red Curry Paste
1 teaspoon Brown Sugar
4 cups Vegetable Stock
2-inches Fresh Ginger Root, peeled and cut into chunks
2-inches Lemon Grass, smashed
8 Peppercorns
1 Jalapeno, sliced plus more for garnish
1/2 cup Cilantro Leaves plus more for garnish
2 tablespoons Fish Sauce
1 (13.5 ounce) can Coconut Milk
3/4 pound Medium Shrimp, shelled and deveined
2 Mushrooms, sliced
Juice of 1 Lime
Directions:
1. Apron Up!
2. Cook the onions. In a medium stock pot over medium heat, add the oil and onions. Cook stirring until onions are translucent (about 5 minutes).
3. Add in spices. Stir in the garlic, cumin, curry paste and sugar. Cook for an additional minute.
4. Stir in stock, ginger root, lemon grass, peppercorns, jalapeño, cilantro and fish sauce. Bring mixture to a boil. Reduce heat and allow to simmer for 30 minutes.
5. Strain. Remove from heat, strain (discarding the solids) and return the strained broth to the pot over medium heat.
6. Cook the shrimp. Stir in coconut milk, shrimp, mushrooms and lime juice. Cook until the shrimp is completely cooked through (about 5 minutes).
7. Set the table and serve immediately garnished with cilantro and jalapeño slices if desired.
Recipe by: Libbie Summers
Photos By: Chia Chong