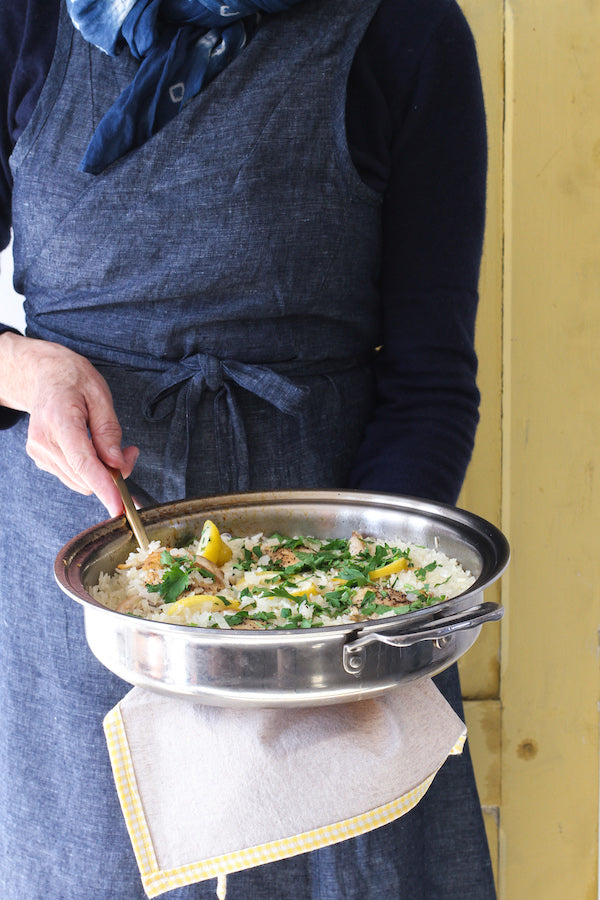 It's time to knock the black sand from your shoes and pack for home. You stuff the suitcase with your clothes and the little shampoos you can't seem to resist –mementos from a well-deserved winter getaway. Standing on the terrace for the last time, you breathe in a place that literally smells like another world from home. The subtle fragrance of the lemon trees stirs you and you make a last-minute decision to leave your platform sandals. They're replaceable. The lemons, however, are a memory you can't leave behind and a Customs risk you're willing to take.
Positano, Italy 2016

One-pan Lemon Garlic Chicken and Rice
serves 4
What you need:
2 pounds boneless skinless chicken thighs
1/2 onion, diced
4 cloves garlic, finely chopped
1 1/2 cups jasmine or basmati rice
3 cups chicken stock
1 large juicy lemon
1/3 cup chopped fresh parsley
Olive oil
Flake sea salt
Black Pepper
What to do:1. Apron Up!2. Prep Chicken and Lemon:
Liberally salt and pepper chicken thighs. Cut lemon in half and cut one of the halves into 4 rounds.
3. Cook Chicken:
Place a large skillet with a tight fitting lid over medium-high heat. Add 1 tablespoon olive oil. Add chicken and brown all pieces on both sides (about 2 minutes per side). Note: You are not cooking chicken all the way through. Remove from skillet to a plate.
4. Finish Chicken and Rice:
To the same skillet, add 1 teaspoon olive oil, garlic, onions, rice and a dash each of salt and pepper. Cook, stirring, 1 minute. Add chicken broth. Nestle chicken thighs back in the pan. Add lemon slices into pan and squeeze the juice of the other half lemon over. Reduce heat to medium-low. Cover and cook for 15 minutes or until liquid is absorbed.
To Serve:
Garnish with chopped parsley and serve straight from the skillet the way God intended.
Recipe by Libbie Summers
Apron: Cuisine Apron in Indigo Blue Chambray
Napkin: French Picnic Linen Napkin Set in Yellow Gingham
Cook along with Libbie as she makes the recipe.