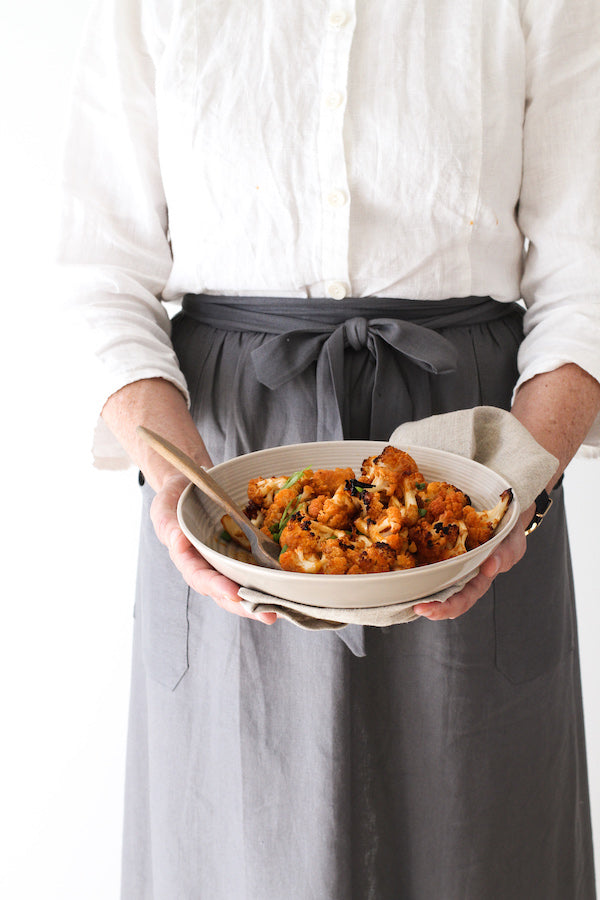 Roasted Korean Cauliflower
serves 2-4
What you need: 
2 tablespoons coconut oil
1 head cauliflower, cut into bitesized florets
1/3 cup gochujang (red pepper paste)
2 tablespoons honey
1 tablespoon soy sauce
1 teaspoon rice vinegar
3 scallions, chopped
What to do: 
1. Preheat oven to 450ºF. Line a baking sheet with foil.
2. Melt Coconut Oil: If your oil is solid, spoon the coconut oil onto the baking sheet and place in the oven just until starting to melt (it will continue to melt).
3. Start Roasting Cauliflower: Place cauliflower on the baking sheet and toss to coat with the coconut oil. Spread out evenly and roast for 15 minutes.
4. Make Sauce: In a large mixing bowl, stir together the gochujang (pronounced, GO-CHEW-JANG), honey, soy sauce and vinegar.
5. Finish Cauliflower: Remove cauliflower from the oven and add to the bowl of sauce. Toss to fully coat. Return to the baking sheet and roast until edges are caramelized (about 15-20 minutes).
To Serve: Garnish with chopped scallions and serve.
Recipe By Libbie Summers
Seen:
Chamber Apron in Grey Linen
Seen:
Dark Sand Linen Kitchen Towel