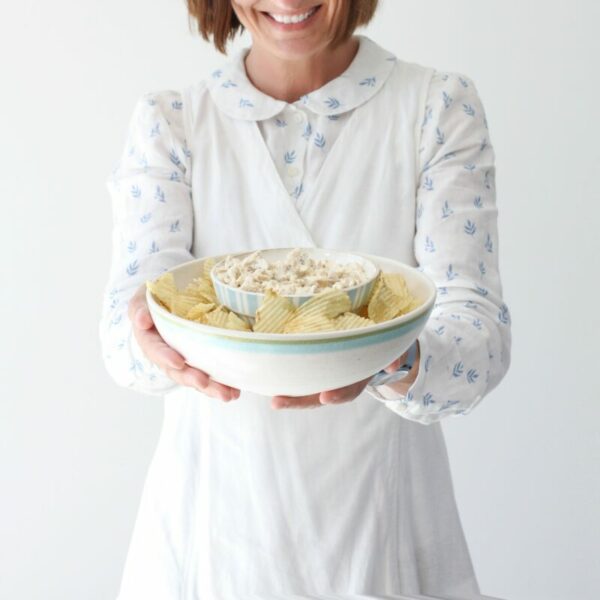 Homemade French Onion Dip
makes 2 cups
What you need:
4 tablespoons butter
2 cups diced yellow onions (about 1 1/2 medium onions)
1/2 teaspoon ground black pepper
1 teaspoon kosher salt
1/2 teaspoon onion powder
4 shakes hot sauce
4 ounces cream cheese, room temperature
1/4 cup mayonnaise
1/2 cup sour cream
Ridged sturdy potato chips for dipping (I used Ruffles®)
What to do:
1. Caramelize Onions: In a large sauté pan over medium heat, add butter, onions, pepper, salt, onion powder and hot sauce. Cook, stirring about every 5 minutes, until rich and brown in color (about 25-30 minutes). Allow to cool.
2. Finish Dip: In a medium mixing bowl, stir together the cream cheese, mayonnaise and sour cream until combined. Don't worry about a few lumps! Fold in cooled onions.
To Serve: Serve room temperature alongside sturdy potato chips!
Recipe by Libbie Summers
Seen:
Cuisine Apron Dress in White Linen
Seen:
Yachtie Gingham Napkin