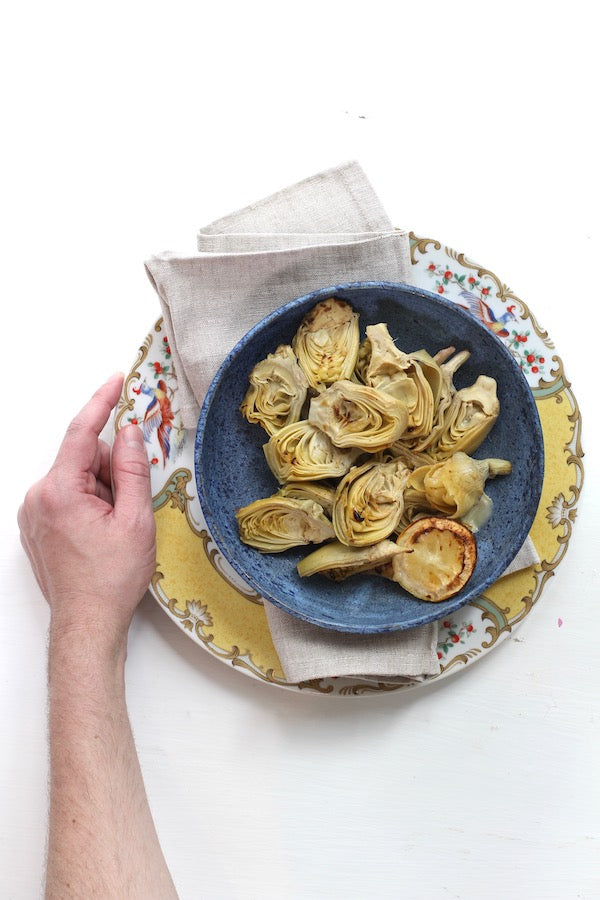 Sure, we all know how to throw together a charcuterie board...but do we really? Meat and cheese -check. Crackers -check. Grainy mustard -check. A Cornichon or two -check. But what about that unexpected bite of briney goodness. These roasted artichoke hearts are quick and easy and damn near addictive. 
Roasted and Spiced Artichoke Hearts
Serves 6-8 as an appetizer
What you need: 
2 (14 ounce) cans whole artichoke hearts
5 tablespoons butter, melted
2 garlic cloves, minced
2 tablespoons honey
1/2 teaspoon Italian seasoning
1 lemon, halved
Kosher salt
Coarsely ground black pepper
What to do: 
1. Preheat oven to 400ºF. Line a baking sheet with foil and set aside. 

2. Prep Artichoke Hearts: Drain artichoke hearts and pat dry. Cut larger hearts in half and leave any small hearts whole. Place on prepared baking sheet. 

3. Make Dressing: In a small bowl, whisk together the butter, garlic, honey, Italian seasoning, juice of half a lemon and 1/4 teaspoon each salt and pepper. 

4. Finish and Bake: Pour dressing over artichoke hearts and the two lemon halves (even the one you squeezed the juice out of). Toss to coat. Roast until just beginning to brown (about 15-20 minutes). For more color, finish in the broiler. 

To Serve: Squeeze the juice from the roasted lemons over and serve. 
Notes: •For a kick of heat, stir 1/4 teaspoon red pepper flake into the dressing before baking. •Top with grated Parmesan cheese after roasting and broil for two minutes or just until the cheese takes on a bit of color. 
Recipe by Libbie Summers
Shown here with a Sand Linen Napkin. 
Love artichokes like we do? Try this HEALTHY Artichoke Dip Recipe!