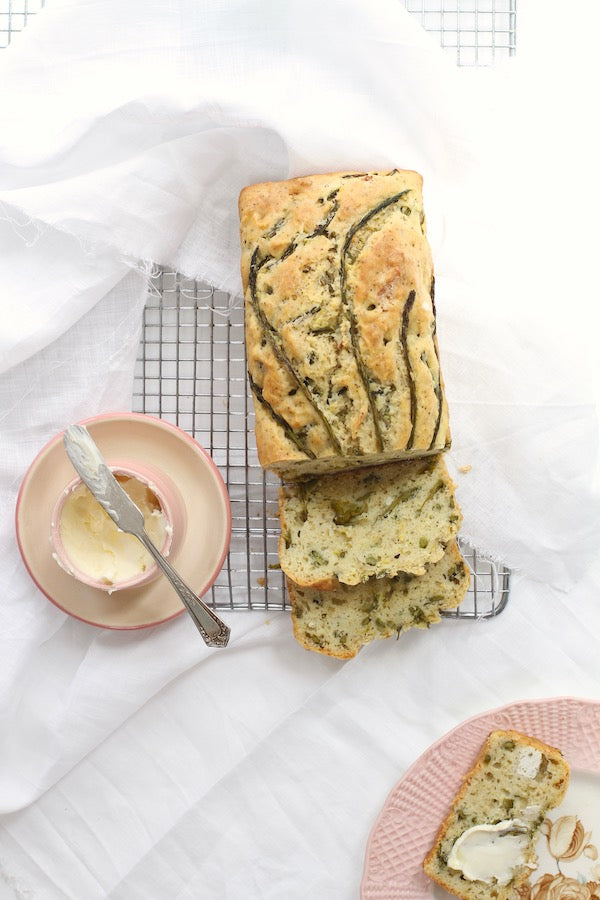 Cheesy Roasted Asparagus Loaf
(charred asparagus, excessive lemon zest, black pepper + herb goat cheese)
makes 1 (9-inch) loaf
What you need: 
1 bunch asparagus, tough ends trimmed off
1/4 cup + 1 tablespoon olive oil, divided
2 cups all-purpose flour
1 tablespoon baking powder
Zest of 2 lemons
Kosher salt
Coarsely ground black pepper
1 large egg
1 cup whole milk
2 ounces garlic-herb goat cheese, crumbled
What to do: 
Preheat oven to 425º F. Line a baking sheet with foil. Prepare a 9-inch loaf pan with parchment paper and non-stick baking spray and set aside. 

1. Roast Asparagus: Place trimmed asparagus on the prepared baking sheet and drizzle one tablespoon olive oil over. Sprinkle with 1/8 teaspoon each salt and pepper. Toss to coat. Roast JUST until beginning to char (about 15 minutes depending on the size of your asparagus). Remove from the oven and allow to cool. Once cool set aside a few of the thinner stems to garnish the top of the loaf and cut the remaining stems into 3/4-inch pieces. 

2. Mix Dry Ingredients: While asparagus is cooling, start the batter. Reduce oven temperature to 350º F. In a large mixing bowl, whisk together flour, baking powder, lemon zest, 1/4 teaspoon salt and 1/2 teaspoon pepper. Set aside. 
3. Mix Wet Ingredients: In a medium mixing bowl, whisk together the egg, milk and olive oil. 
4. Finish Batter: Stir the wet ingredients into the dry ingredients JUST until combined. Fold in the goat cheese and asparagus pieces. 
5. Bake Loaf: Spoon batter into the prepared loaf pan and top with the reserved asparagus stems to decorate (get creative here), pressing stems into the top of the batter. Bake until the internal temperature reaches 200º F or until a toothpick inserted in the center of the loaf comes out clean (about 60-65 minutes). 
To Serve: Allow to cool slightly before slicing and serving. This savory bread is delicious at breakfast slathered with good Normandy butter (served in a beautiful French Butter Keeper) and a side of scrambled, at lunch as the base of a fancy tuna melt or dinner as the star of the bread basket. 

Recipe by Libbie Summers