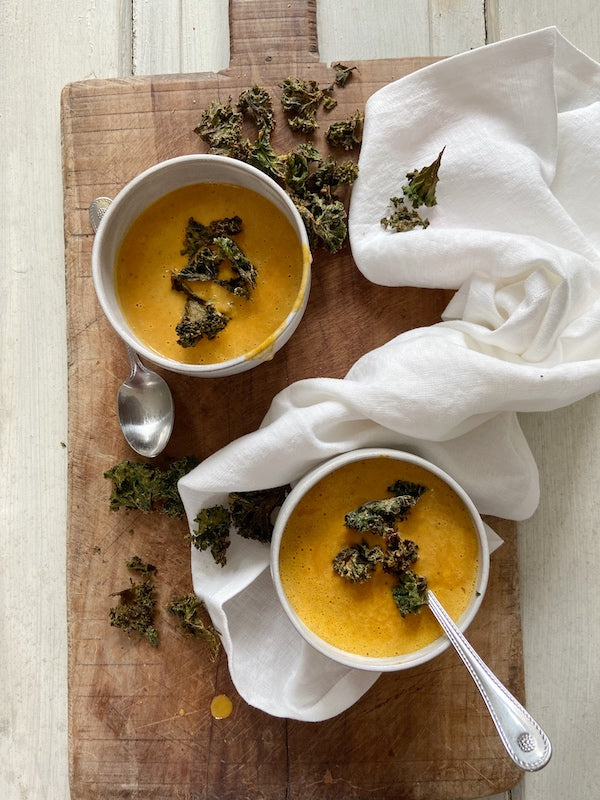 Indian-spiced Roasted Carrot Soup with Spiced Kale Chips
serves 4
What you need: 
For Kale Chips:
4 stalks kale, washed and thoroughly dried and torn into bite-sized pieces
1 tablespoon nut butter (I used almond)
1 teaspoon oil (I used a garlic olive oil)
1/4 teaspoon ground cumin
1/4 teaspoon curry powder
1/8 teaspoon cayenne pepper
pinch sea salt
For Soup:
1 pound carrots, washed and sliced into 1/4″ rounds
1/2 onion, quartered and broken into pieces
5 cloves garlic, left in skins and lightly smashed
small sliver of jalapeno
1 tablespoon olive oil (I used a garlic olive oil)
1 teaspoon garam masala
1 (13.5 ounce) can coconut milk
Juice of one lime
1 teaspoon minced fresh ginger (can sub 1/2 teaspoon of powdered ginger)
3 cups vegetable stock, hot
Flake sea salt
What to do: 1. Make Kale Chips:
Preheat oven to 350º F. Line a baking sheet tray with foil. Place kale in the middle of the sheet tray. In a small mixing bowl, stir together the remaining ingredients until smooth. Spoon mixture over kale and massage into kale with your hands, coating every piece evenly. Separate the coated kale pieces on the sheet tray and bake until crisp (about 10-12 minutes). Set aside.
2. Start Soup: Preheat oven to 425ºF. Line a baking sheet tray with foil. Add carrots, onions, garlic, jalapeno, olive oil, garam masala and a heavy pinch of salt. Toss to coat. Spread mixture out over the tray, separating all the pieces. Roast just until carrots can be pierced with a fork (about 20-25 minutes). Remove from oven and remove skins from garlic and place garlic back on tray.
3. Finish Soup: Add the roasted vegetable mixture to a blender along with the coconut milk and stock. Place lid on blender and cover with a towel. Process until smooth. Salt to taste.
To Serve: Divide soup between bowls, drizzle with olive oil (optional) and garnish with spiced kale chips.
Recipe By: Libbie Summers
Shop the Image:
White Linen Dish Towel