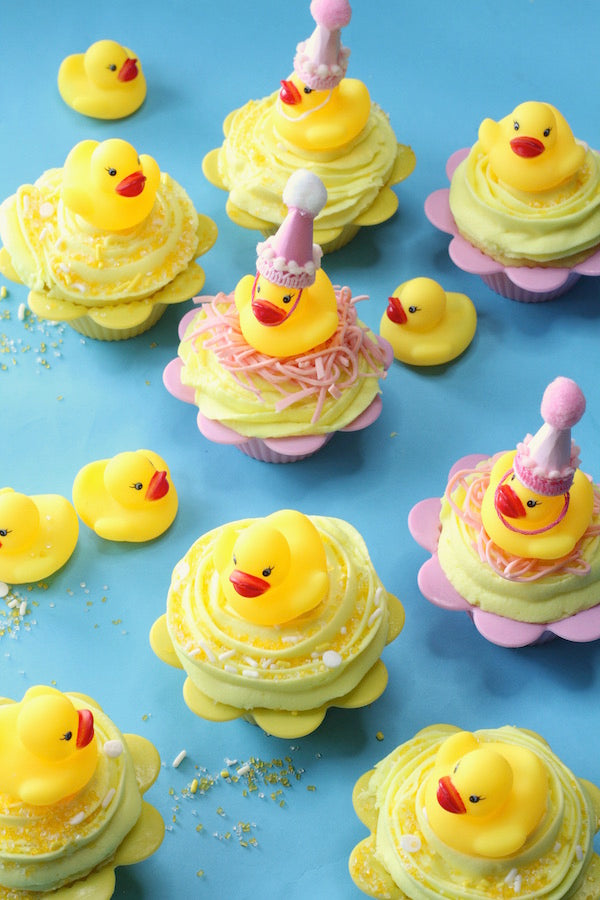 Fresh lemon zest and lemon juice make these cheeky cupcakes ducking delicious!

Homemade Lemon Sunshine Cupcakes
(citrus spiked cupcakes, lemon buttercream, sparkly Sunshine Day sprinkles)
makes 12 cupcakes
What you need: 
1 1/2 cups all-purpose flour
1/2 teaspoon salt
2 teaspoons baking powder
1/2 cup butter, room temperature
1 cup vanilla sugar (sugar that has been sitting with a split vanilla bean in it for at least a week), can substitute regular sugar
2 large eggs, room temperature
Zest and juice from 1 large ripe lemon
1 teaspoon vanilla paste or extract
1/2 teaspoon lemon extract
1/2 cup milk
12 baking cups (I used silicone cups from Wilton)
Lemon Buttercream Frosting, recipe to follow
Yum Yum Smile Shop Sunshine Day Sprinkles for decorating
Sunshine Duckie Cake Topper Kit for decorating

What to do: 
1. Preheat oven to 350ºF. Line a 12-count muffin pan with paper liners or set 12 silicone liners atop a baking sheet. Set aside. 
2. Prepare dry ingredients: In a medium mixing bowl, sift together flour, salt and baking powder. Set aside. 
3. Mix wet ingredients: In the bowl of a standing mixer fitted with a paddle attachment, beat the butter and sugar together on medium-high speed until creamed (about 3 minutes). Add the eggs one at a time, mixing until incorporated. Add in zest, juice and extracts mixing until well combined and scraping down the sides of the bowl as needed. 
4. Finish batter: Add the flour mixture and milk and beat JUST until combined. Do not over mix or your cupcakes will be dense! 
5. Bake: Using a measuring scoop, fill the muffin cups 2/3 full. Bake 20-25 minutes or until a toothpick inserted in the middle comes out clean. Remove from oven and allow to cool completely before frosting and decorating. 
6. While cupcakes are cooling, prepare frosting. Recipe to follow. 
7. Decorate: using a piping bag fitted with a large star tip, pipe the frosting onto each cooled cupcake beginning in the middle and circling out to the edges. Sprinkle with Yum Yum Smile Shop Sunshine Day Sprinkles and place a mini rubber duckie from the Sunshine Duckie Cake Topper kit on each one. 

To Serve: Serve cupcakes at room temperature, removing mini rubber duckie before eating. 
Pro Tip: Send your guests home with the mini rubber duckie as a "little" party favor...they make for a fun bath time no matter what your age! ;) 

Lemon Buttercream Frosting
makes 2 1/2 cups

What you need: 
2 sticks butter, room temperature
4 cups powdered sugar, sifted
pinch of salt
1 teaspoons lemon extract
1 teaspoon vanilla paste or extract
4+ tablespoons milk
Yellow food coloring
What to do: 
In the bowl of a standing mixer fitted with a paddle attachment, beat the butter on medium speed until creamy. Reduce the speed to low and gradually add 2 cups of the powdered sugar. Increase the speed to medium and add the salt, vanilla paste, lemon extract and 4 tablespoons milk. Beat until creamy. Add the remaining powdered sugar 1/2 cup at a time and beat until fully incorporated. If the frosting is too thick, add a bit more milk. If too thin, add more powdered sugar until the perfect consistency is achieved. Tint the frosting yellow by adding just a drop of food coloring at a time while mixing until the color you are looking for is achieved. We went for a pale yellow!