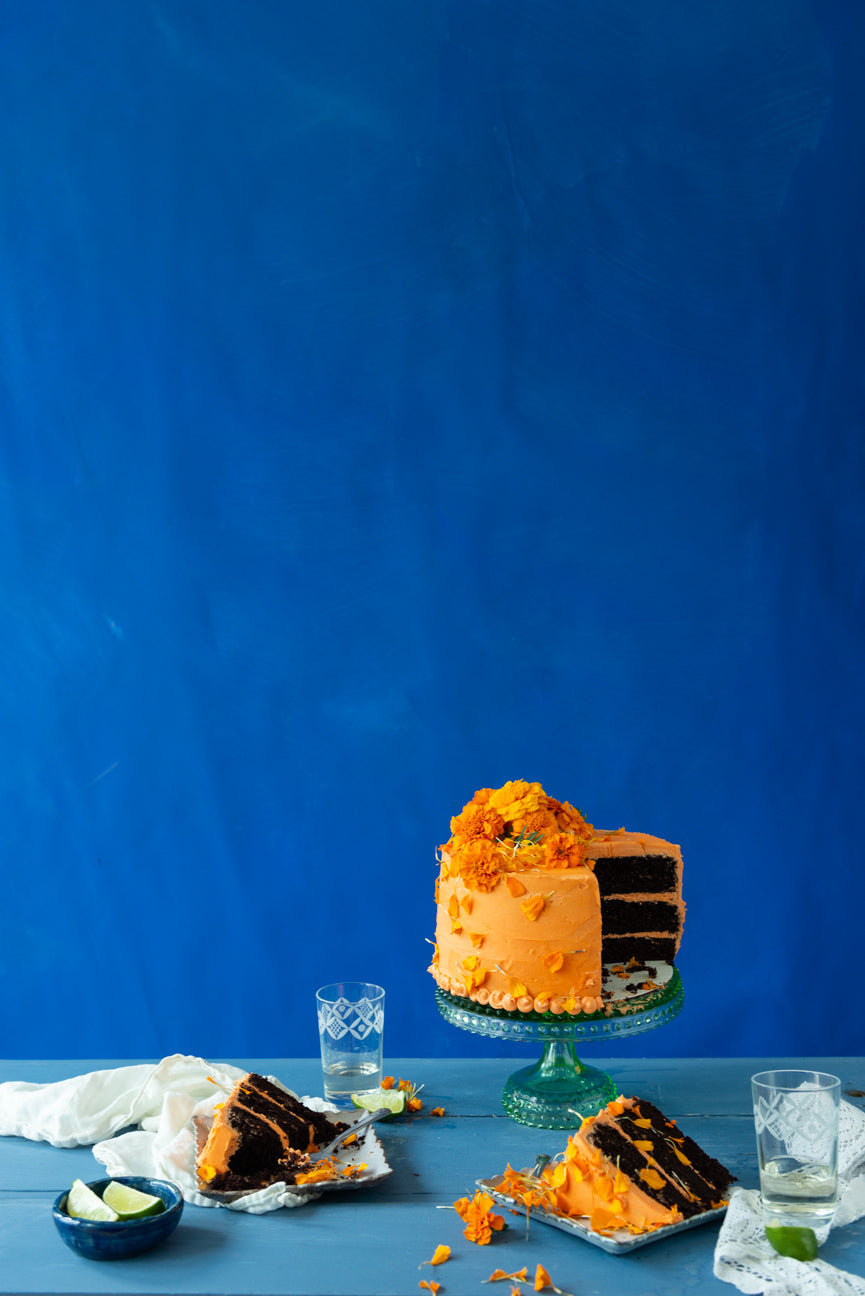 El Diablo Cake
Spiced devil's food cake, orange buttercream, marigolds 
Serves 12-16
What you need:
3 cups all-purpose flour
2 teaspoons baking powder
1 teaspoon baking soda
1/2 teaspoon salt
2 teaspoons ground cinnamon
1 teaspoon ground chipotle pepper
1 1/2 cups unsweetened cocoa powder
1 cup boiling water
1 1/4 cup whole milk
3 cups vanilla sugar* (can sub regular granulated sugar)
9 ounces butter, room temperature
5 large eggs, room temperature
1 tablespoon vanilla paste (can sub vanilla extract)
Orange Buttercream Frosting (recipe below)
Orange marigolds for decorating (optional, but lets be honest- they make the cake!)
What to do: Preheat oven to 350 degrees F. Grease and cocoa dust or flour dust three 8-inch round cake pans. Set aside. In a large mixing bowl, sift together flour, baking powder, basking soda, salt, cinnamon and chipotle pepper. Set aside. In a medium heatproof bowl, add cocoa and whisk in boiling water until fully combined. Stir in milk and set aside to cool slightly. In the bowl of a standing mixer fitted with a paddle attachment, cream the sugar and butter until light and fluffy (scrapping the bowl as needed). Add the eggs one at a time, mixing until each is fully incorporated. Add vanilla and mix to combine. With mixer on low speed, add 1/3 of the flour mixture and mix to combine. Add half of the warm cocoa mixture and mix to combine. Repeat, alternating the dry and wet ingredients until both are fully combines and the batter is smooth. Divide batter between the three pans and bake until a toothpick inserted in the middle comes out clean (about 25-30 minutes). Turn cakes out of their pans to cool completely before frosting with Orange Buttercream Frosting and decorating with marigolds. *Vanilla sugar is granulated sugar that has been steeping with vanilla pods for over a week.  
Orange Buttercream Frosting
All-butter buttercream, orange kick
Yields 5 cups

What you need:
2 cups (4 sticks) unsalted butter, room temperature
6 cups confectioners sugar
1/2 teaspoon salt
1 teaspoon vanilla extract
2 teaspoons orange extract
4-8 tablespoons evaporated milk
What to do: In the bowl of a standing mixer fitter with a paddle attachment, cream the butter and powered sugar together until light and fluffy (about 5 minutes). Add the extracts and half the milk and mix until thoroughly combines. Add additional milk as needed for desired thickness. 
Pictured above; the Cuisine Apron Dress in Black Linen from the Kitchen to Street Apron/Dress line!