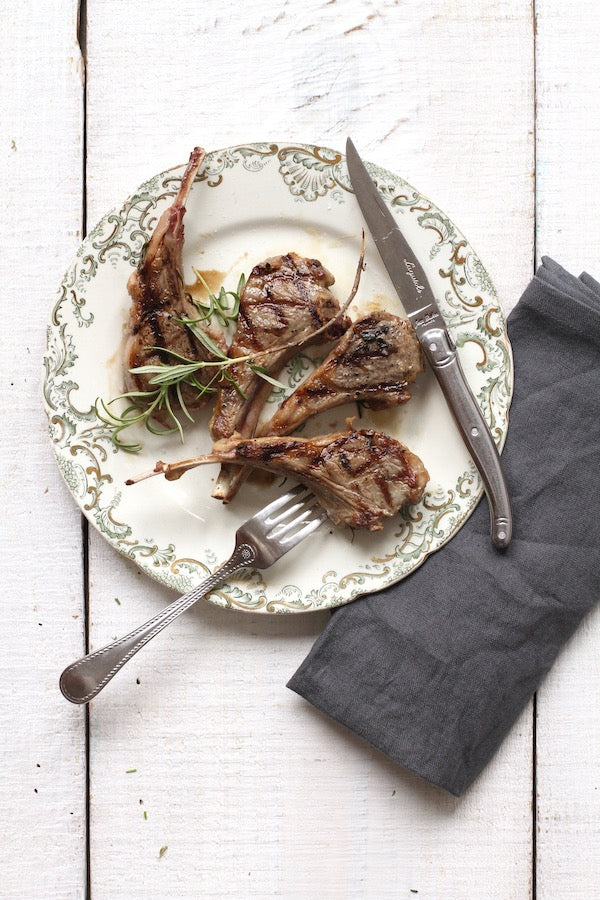 This one is a fancy main that takes very little time and even less skill. Spoon a bit of Pomegranate Herb Relish over the top for a colorful ending. 

Garlic Rosemary Lamb Chop Lollipops
serves 4

What you need: 
1 tablespoon minced fresh rosemary leaves, plus more fresh rosemary for garnish
2 garlic cloves, minced
1 teaspoon flaked sea salt
pinch of black pepper
2 tablespoons olive oil
8-10 lamb chop lollipops
Pomegranate and Herb Relish (optional)

What to do: 
1. Make Marinade: In a small bowl, stir together first 5 ingredients. Place lamb chop lollipops into a large zip top bag and add rosemary garlic marinade. Massage to coat. Refrigerate for 1-2 hours. Remove from refrigerator and bring chops to room temperature. 
2. Grill Chops: Heat outdoor grill or indoor grill pan to high heat. Add chops and grill for 4 minutes per side or desired doneness. 
To Serve: Serve warm. Great with a spoon of Pomegranate Herb Relish over (optional). 
NOTE: This garlic and rosemary paste is also great as a marinade for chicken or fish.


SHOP THE RECIPE:
Apron: Shopkeep Apron in Deep Grey Linen
Napkins: Charcoal Linen Napkin Set (set of 4)
Recipe by Libbie Summers