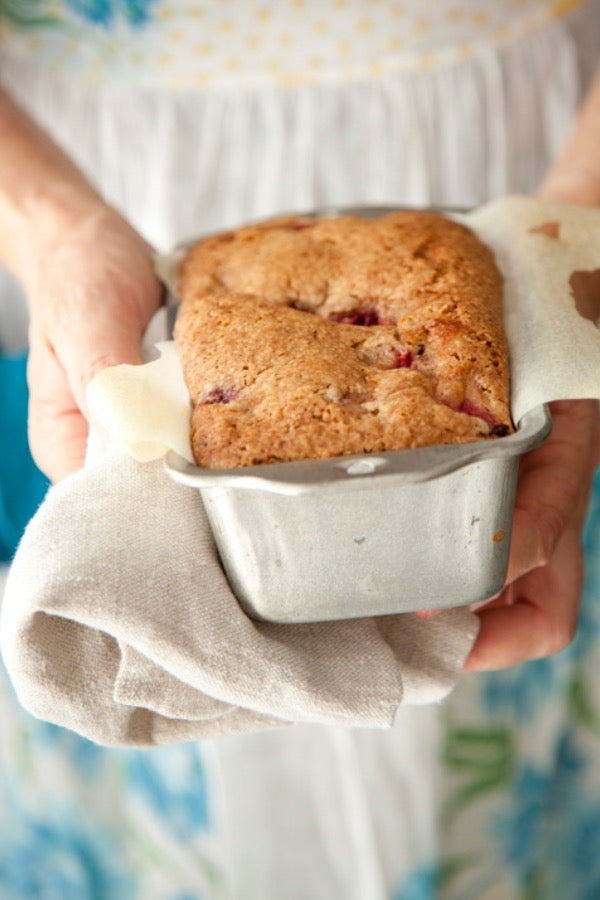 Fresh Picked Strawberry Bread
(balsamic strawberry butter)
yields 2 loaves
What you need:
3 cups all-purpose flour
1 teaspoon baking soda
1/2 teaspoon salt
2 teaspoons ground cinnamon
2 cups sugar
4 eggs
1 cup vegetable oil
2 1/2 cups quartered fresh strawberries, divided
1 teaspoon vanilla
zest from one Meyer lemon (may substitute any fresh lemon zest)
Balsamic Strawberry Butter (recipe to follow)

What to do:
1. Preheat oven to 350ºF. Prepare 2 loaf pans with non-stick cooking spray and line with parchment paper (allowing the long sides to over hang by 3-inches on each side). Set aside.
2. In a medium mixing bowl, whisk together the flour, baking soda, salt and cinnamon. In a separate large mixing bowl, whisk together the eggs, sugar and oil until fully combined.
3. Puree 1 cup of the quartered strawberries in a blender until not quite smooth (you may need to add a couple of tablespoons of the egg/oil mixture into the blender if the strawberries are too dry).
4. Stir the pureed strawberries and vanilla into the egg mixture. Gradually stir the flour mixture into the egg mixture until combined. Fold in the remaining strawberries and lemon zest.
5. Bake until golden brown and set in the center (approximately 60 minutes). Slice and serve warm or room temperature with Balsamic Strawberry Butter.

Balsamic Strawberry Butter
yields approximately ¾ cups
What you need:
½ cup Irish butter, room temperature
6 fresh strawberries, washed, stemmed, chopped and mashed
1 teaspoon balsamic glaze
What to do:
1. In a small mixing bowl, stir together all the ingredients until well combined
Recipe by:
Libbie Summers
Seen:
Sand Linen Napkin