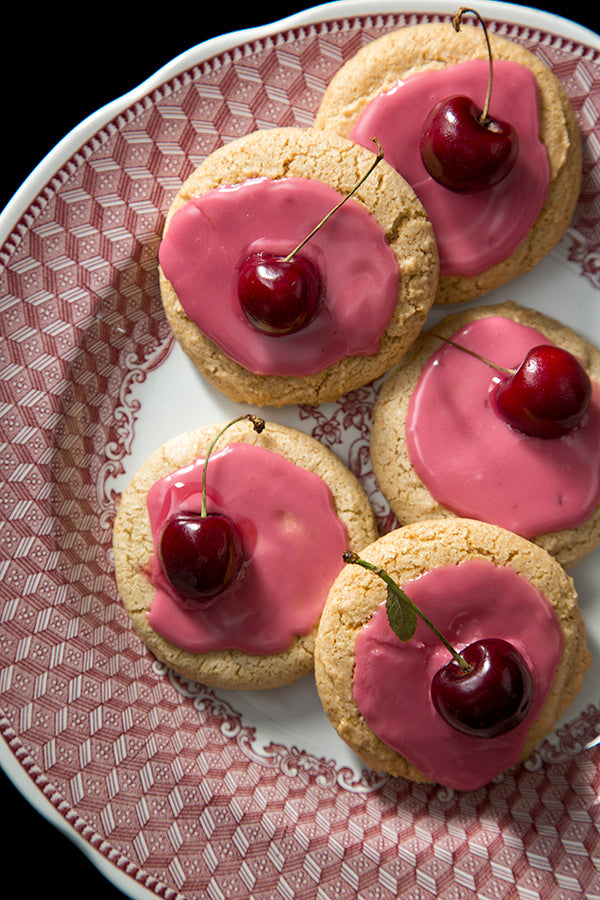 Aleksandr Petrovsky/The Russian (Mikhail Barishnikov's charachter) in Season 6/Episode 9 of Sex and the City introduced us to Cherry Verenya -The wonderful sweet and sour cherry syrup Russians use to sweeten their tea. These Cherry Spice Cookies are everything we think the Russian would love. Spicy, crunchy and not too sweet...delicious and beautiful. 
Cherry Spice Cookies
(cherry verenya icing)
Serves 18

What you need:
3 cups all-purpose flour
1/2 teaspoon cinnamon
1/2 teaspoon ground cardamom
1/2 teaspoon ground nutmeg
pinch of allspice
1 teaspoon baking soda
pinch of salt
2 large egg yolks
1 cup honey
1 teaspoon vanilla paste
3/4 cup sugar
Cherry Verenya Icing (recipe to follow)
9 fresh cherries pitted and cut in half for garnish

What to do:
Preheat oven to 350 degrees F. Line two baking sheets with parchment paper and set aside.

In a large mixing bowl, sift together the flour, cinnamon, cardamom, nutmeg, allspice, baking soda and salt. Set aside.

In the bowl of a standing mixer fitted with a paddle attachment, add the egg yolks, honey, vanilla paste and sugar. Beat on medium until light and fluffy. Reduce speed to low and gradually add in the flour mixture, scraping down the sides of the bowl as needed (dough will be stiff). Refrigerate for 1 hour.

Using a #30 portion scoop (2 tablespoons), scoop the dough onto the prepared baking sheets leaving 1-inch between each mound. Bake until lightly golden (about 14-18 minutes). Cool on the baking sheets before frosting with the Cherry Verenya Icing (below) and garnishing with a fresh cherry half.

Cherry Verenya Icing
Makes 1/2 cup

What you need:
1 cup confectioners sugar
2-3 tablespoons Cherry Verenya Syrup (recipe below), you can sub a cherry juice concentrate here if you have to

What to do
Mix together.
Cherry Verenya
yields about 3 cups 
What you need:
1 cup turbinado sugar
1 pound fresh or frozen whole sour cherries, pitted (I used frozen)
1/4 cup freshly squeezed lemon juice
What to do:
In a medium sauce pan over medium high heat, add the sugar to 2 cups water. Cook, stirring occasionally, until the sugar dissolves. Add the cherries and bring the mixture to a boil. Stir. Reduce the heat and allow the cherry mixture to simmer until beginning to thicken (about 30 minutes), stirring occasionally. Remove from heat and stir in the lemon juice. Allow mixture to cool. Serve alongside hot tea as a sweetener (Russian Style).