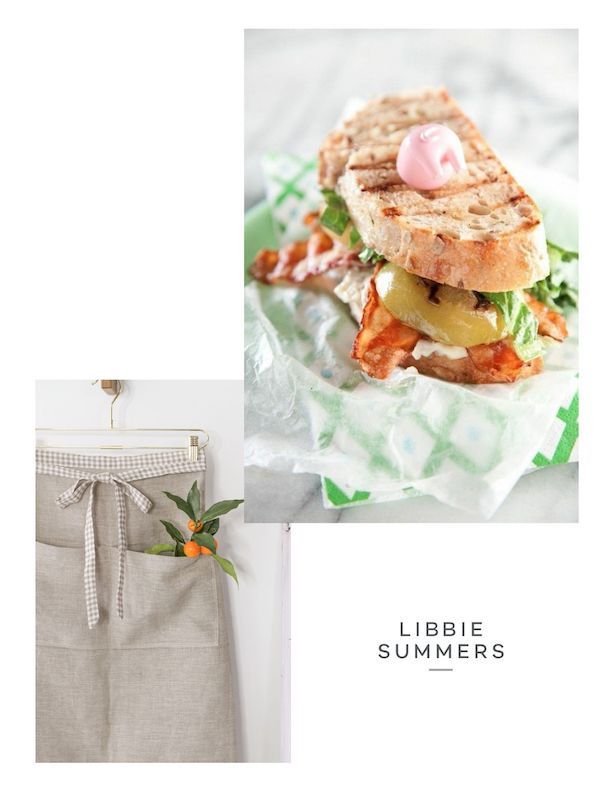 "If you're traveling to remote places, a red tomato is sometimes hard to find. Surprisingly, I've found that a green tomato isn't. This revelation still upsets my sensibilities, but I have learned to embrace it. When I worked for yachting clients around the world, I made my BLTs using green tomatoes. Each time I made them, I'd hear the same thing: 'Libbie, this is the best BLT I've ever had.' Thus its name was earned." — Libbie
World's Best BLT
makes 4 sandwiches

What you need:
For Mayonnaise
1 large egg yolk
1 teaspoon white vinegar
2 teaspoons freshly squeezed lemon juice
1/2 teaspoon dry mustard
1/4 teaspoon cayenne pepper
1/2 teaspoon salt
3/4 cup vegetable oil, divided
For Sandwiches
2 green tomatoes, cut into 8 slices
2 tablespoons vegetable oil, divided
Kosher salt and freshly ground black pepper
2 cups ribbon-chopped green leaf lettuce
2 teaspoons fresh lemon juice
8 slices sunflower bread, grilled
1 cup homemade mayonnaise (recipe to follow)
12 slices bacon, cooked crisp and drained
What to do:
1. Make Mayonnaise: Add egg yolk, vinegar, lemon juice, dry mustard, cayenne pepper and salt to a medium mixing bowl. Whisk until well combined and bright yellow (about 1 minute). Whisking constantly, add 1/4 cup of vegetable oil a few drops at a time (it's important not to rush this part — each drop of oil must be fully incorporated before the next). This step normally takes about 5 minutes. Still whisking constantly, gradually add remaining 1/2 cup of vegetable oil in a slow, steady stream until mayonnaise begins to lighten and thicken (usually 8 to 10 minutes). Mayonnaise will hold for 2 days when covered and refrigerated.
2. Grill Green Tomatoes: Heat a grill or grill pan to high heat. Brush green tomato slices with 1 tablespoon of olive oil and sprinkle with salt and pepper. Place tomatoes on the hot grill and cook until brown marks form on each side (approximately 3 to 4 minutes per side). Remove and set aside.
3. Dress Salad: Place chopped leaf lettuce in a medium mixing bowl. Drizzle with remaining 1 tablespoon of vegetable oil and lemon juice over. Add salt and pepper. Using tongs, toss greens to coat. Set aside.

4. Assemble Sandwiches: Spread a thick layer of homemade mayonnaise on one side of all 8 slices of bread. Top 4 slices with three pieces of bacon, two grilled green tomatoes and one quarter of the dressed greens each. Place the 4 remaining bread slices (mayonnaise side down) on top of each sandwich.


Recipe by Libbie Summers from her book, The Whole Hog Cookbook (Rizzoli)
Food Photography by Chia Chong
Apron: Galley Apron in natural and gingham linen