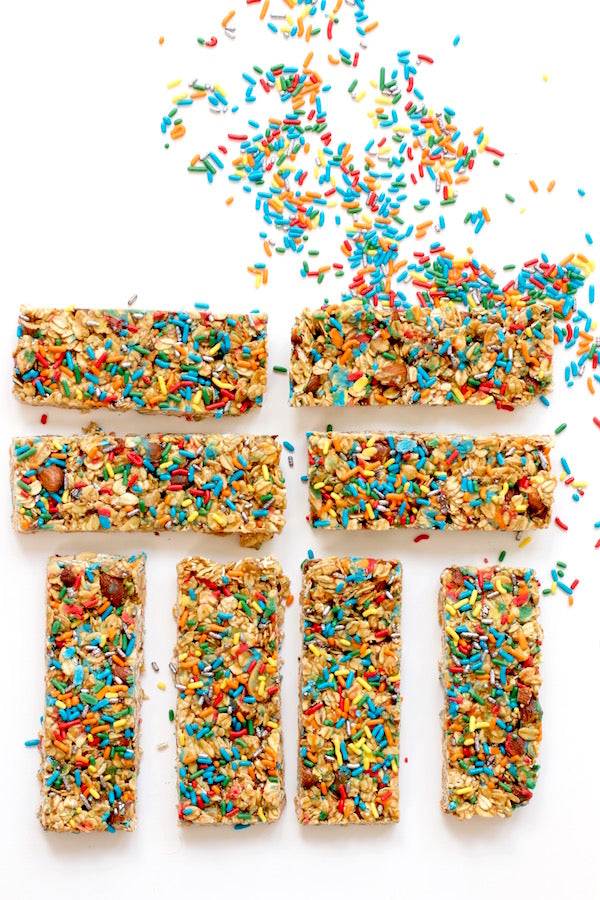 An afterschool lunch snack with FLARE!
Sprinkle Granola Bars
makes 1 (8×8 pan full)
What you need
:
2 1/2 cups rolled oats
1/2 cup chopped almonds
1/3 cup brown sugar
1/4 cup honey
1/3 cup butter
1/4 cup crunchy almond butter
1 teaspoon vanilla
1/4 cup
Box of Crayons Sprinkles
What to do
:
1. Preheat oven to 350º F. Line an 8×8 baking pan with parchment paper and spray with non-stick cooking spray. Set aside.
2. Pour oats and almonds onto a baking sheet and bake (stirring once) until lightly browned (about 15 minutes). You could also toast on the stovetop in a hot sauté pan. Allow to cool and place in a large mixing bowl.
3. In a small saucepan over medium-low heat, stir together the brown sugar, honey and butter. Cook until the brown sugar has dissolved. Remove from heat. Stir in almond butter and vanilla.
4. Stir almond butter mixture into toasted oats and almonds until oats are completely coated.
5. Pour mixture into prepared baking pan. Sprinkle with sprinkles. Use a spatula to lightly press the mixture in the pan. Cover with plastic wrap and refrigerate for at least 2 hours.
6. Turn out onto a cutting board and cut into bars or squares.
Recipe by Libbie Summers