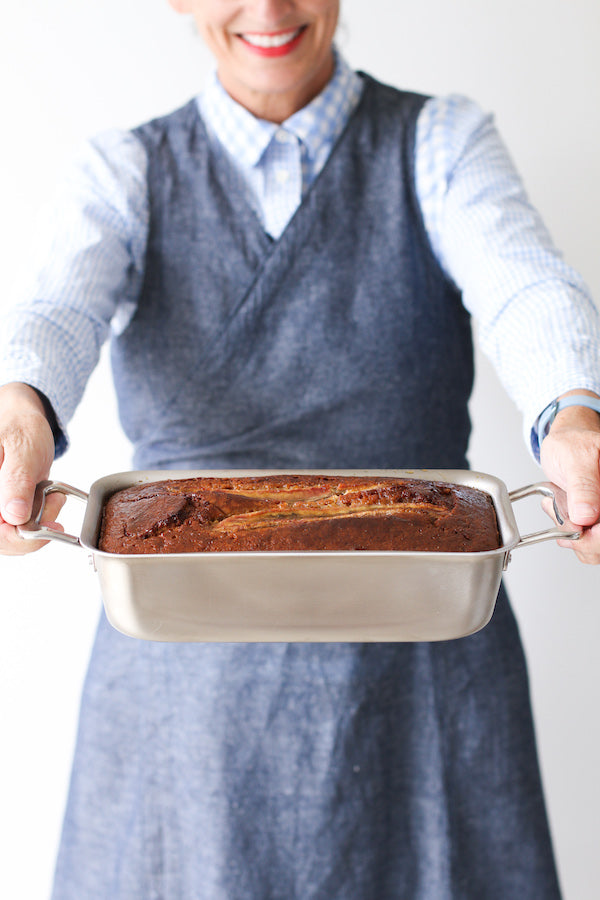 Sure, everyone says they have the most delicious banana bread recipe. This recipe not only tastes good, it also looks amazing AND it only uses one bowl to prepare. Redbook Magazine declared it the Best Banana Bread Recipe in all the land. 
One Bowl Best Ever Banana Bread
makes 1 loaf
What you need: 
2 1/4 cups all-purpose flour
2 teaspoons ground cinnamon
Pinch of cayenne
1/4 teaspoon salt
2 teaspoons baking powder
1/4 teaspoon baking soda
3/4 cup packed dark brown sugar
1 cup vegetable oil
3 eggs
1 teaspoon vanilla paste
2 1/2 cups mashed banana (about 4 medium bananas)
1 whole banana
2-3 tablespoons honey
Organic butter for serving, room temperature 
What to do: 
1. Preheat oven to 350ºF. Spray a loaf pan with non-stick baking spray. Line the long sides and bottom with one piece of parchment paper, leaving enough paper to hang over the sides then spray the paper with non-stick baking spray. Set aside.
2. In a large mixing bowl, whisk together the flour, cinnamon, cayenne, salt, baking powder and baking soda.
3. Mix in the brown sugar (I use my hands for this, breaking up the brown sugar with my fingers) .
4. Make a well in the center and pour in oil and eggs. Whisk with a fork to break up the eggs. Stir all ingredients until just combined (mixture will be thick, don't worry).
5. Stir in vanilla paste and mashed bananas until just combined.
6. Pour into the prepared loaf pan and smooth the top.
7. Peel and slice the remaining banana lengthwise into 4 slices. Place slices on top of the batter and drizzle each with honey to coat (this will help keep the banana beautiful and caramelize it a bit…so good!)
8. Bake until a skewer inserted in the middle comes out clean (about 60-90 minutes). Remove and allow to cool for 30 minutes before removing from the pan.
Serve with room temperature organic butter.
 Recipe by Libbie Summers
Apron: Cuisine Apron in Indigo Chambray
Handled Loaf Pan: 360 Cookware