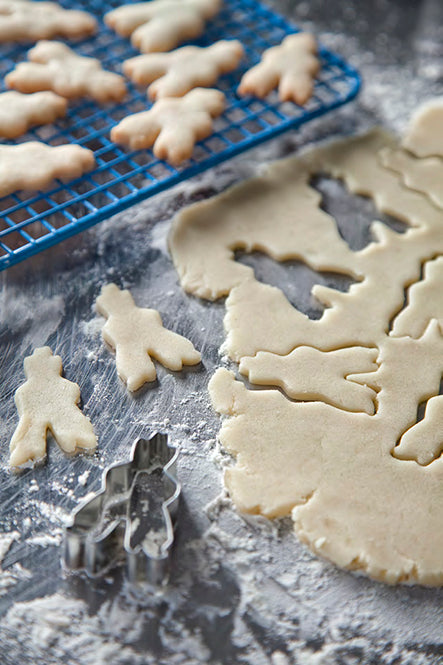 Mini cowboy shaped sweet buttery cookies.

What you need:
12 tablespoons (1 1⁄2 sticks) butter, at room temperature
1 cup sugar 
1 large egg
1 teaspoon S&V House Citrus Extract or vanilla extract (but it's not the same)
2 1⁄2 cups all-purpose flour, plus more for dusting
1 teaspoon baking powder
1⁄2 teaspoon salt
Pinch of freshly grated nutmeg 
What to do:
In the bowl of a standing mixer fitted with the paddle attachment, cream together the butter and sugar for 3 minutes, or until light and fluffy. Scrape down the bowl as needed. Add the egg and citrus extract and continue to beat for 1 minute.
In a medium mixing bowl, sift together the flour, baking powder, salt, nutmeg, and mace.
With the mixer on low speed, add half of the flour mixture to the butter mixture and beat until just combined. Scrape down the bowl as needed. Add the remaining flour mixture and beat for 2 minutes, or until the dough pulls cleanly away from the sides of the bowl.
Turn the dough out onto a work surface lightly dusted with flour and divide it into two flattened discs of equal size. Wrap in plastic wrap and refrigerate for 2 hours. (The dough will keep, refrigerated, for up to a few days.)
Line two baking sheets (small enough to fit in your refrigerator, because you'll be chilling the cookies before you bake them) with parchment paper and set aside.
Remove one dough disc from the refrigerator, unwrap it, and let it stand at room temperature for 5 minutes. Tear off two large pieces of plastic wrap and place the dough between the two sheets. Roll out to 1⁄8 inch thick. If the dough starts to crack, it is still a little too cold, so let it come to room temperature before continuing.
When you have rolled it out, remove the dough from the plastic wrap and transfer to a work surface that has been lightly dusted with flour. Lightly dust the top of the dough with flour. Dip your small (animal cracker–size) cowboy cookie cutter into flour before pressing it into the dough to cut out the shape. Place the cookies on the prepared baking sheets and continue until all the dough has been used. Re-roll dough scraps to make more cookies. Refrigerate the cut-out cookies for 30 minutes.
Preheat the oven to 350° F. Bake the cookies for 15 minutes, or until they are light golden brown. Transfer the baking sheets to wire racks and let the cookies cool to room temperature. Repeat the process with the second refrigerated disk of dough.