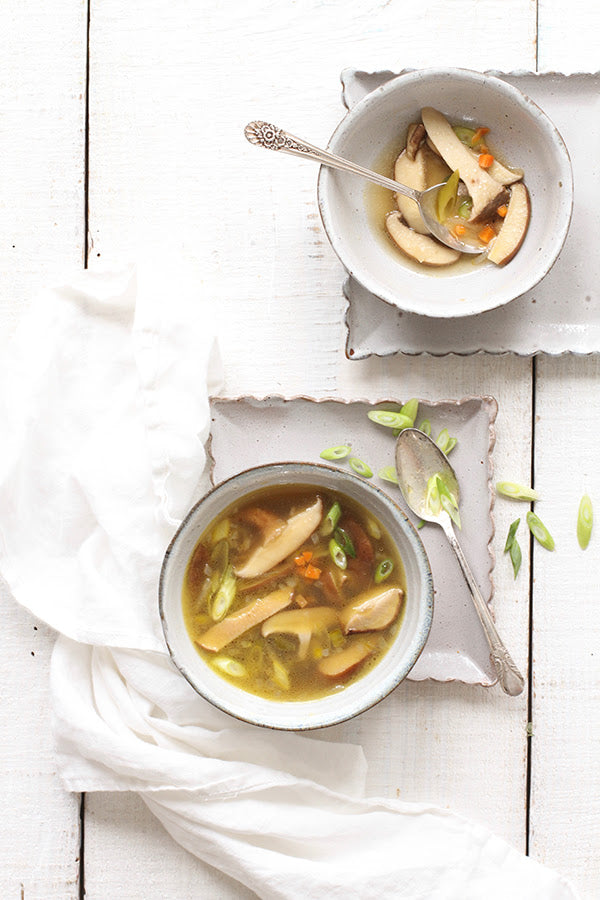 JAPANESE CLEAR SOUP
serves 8

What you need:
1 tablespoon sesame oil
2 medium Vidalia or other sweet onions, peeled and cut into wedges
2 large carrots, diced
4 cloves garlic, peeled and smashed
2 inch nob of fresh ginger, sliced
12 cups vegetable broth
4 cups water
4 whole scallions, chopped 
10 wild mushrooms, thinly sliced
Flake sea salt
Coarsely ground black pepper

What to do:
In a large heavy bottom pot over medium-high heat, add oil, onion, carrots, garlic, ginger and a heavy pinch of salt and pepper. Cook, stirring, until vegetables are caramelized (about 5 minutes). Pour in broth and water. Bring to a boil. Lower the heat and simmer for at least one hour. 

Remove the vegetables from the broth with a skimmer or strainer. Season broth with salt to taste and return to heat to reheat. 
To serve: Add sliced mushrooms and scallion to bowls. Top with hot broth. Setsuko would often drizzle with sesame oil to finish.