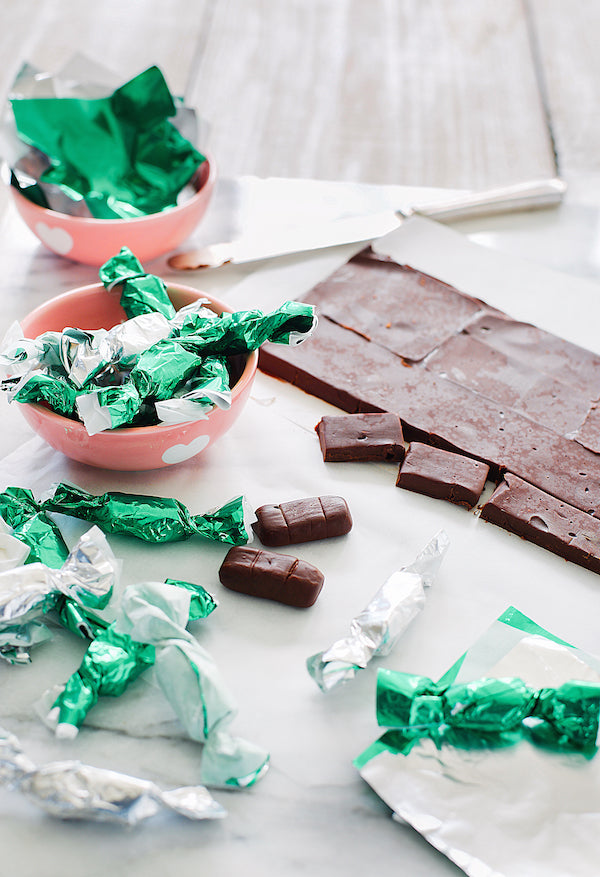 Homemade Tootsie Rolls
makes 48
What you need:
12 ounces good-quality semisweet chocolate chips
1/2 cup light corn syrup (please no high fructose corn syrup)
1 ¾ -2 teaspoons orange extract
3/4 teaspoon water, warm
Waxed paper squares or colored candy foil for wrapping
What to do:
•Line a baking sheet with film wrap and set aside.
•In a medium sauce pan over medium-low heat, add the chocolate and stir constantly until melted. You can also use a microwave safe bowl to melt chocolate in a microwave. Set timer for 10 seconds stirring between each time until chocolate has melted.
•Add the remaining ingredients and stir well.
•Scrap chocolate onto the prepared baking sheet and press down with the back side of a spatula to a 1″ thickness (you won't cover the entire baking sheet).
•Cover chocolate loosely with a piece of film wrap and let set overnight at room temperature. Note: The mixture will be stiff, but still moldable and flexible the next day.
•Remove film wrap and cut into desired size pieces. Form each piece into a log with a 1/2″ diameter.
•Wrap pieces in waxed paper or colored foil squares.
**Make your own signature tootsies using other extracts to flavor! Try a raspberry extract or mint. Your imagination is the only limit!