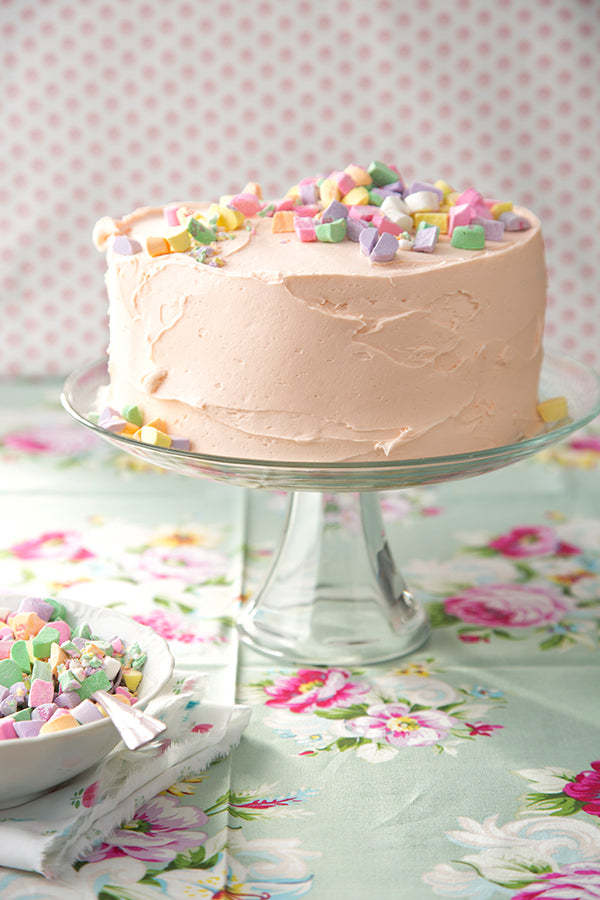 There are many years in most of our lives when Valentine's Day is highly overrated…even in those years, there should always something sweet to eat.

Broken Heart Cake
serves 12

What You Need:
2 3⁄4 cups cake flour
1 tablespoon baking powder
1⁄2 teaspoon salt
1 teaspoon cinnamon
1 3⁄4 cups vanilla sugar* (can substitute regular sugar)
3⁄4 cup milk
2 teaspoons vanilla
12 tablespoons butter, at room temperature, plus 2 tablespoons for the pans
5 large egg whites, at room temperature
Vanilla Buttercream Frosting tinted a light copper color (recipe to follow)
1 cup crushed Valentine heart candies (I used a zip-top bag and a rolling pin to break)
What To Do:
Preheat oven to 350º F. Butter two 8-inch round baking pans. Set aside.
In the bowl of a standing mixer fitted with a paddle attachment, add the flour, baking powder, salt, cinnamon and vanilla sugar and mix just until combined. Add the milk, butter and vanilla and mix until combined (mixture will be very thick). Add the egg whites and mix until batter is light and fluffy (about 3 minutes). Divide batter between the two baking pans and smooth the top. Bake until lightly golden and baked through (about 20-25 minutes). Set aside to cool. When cakes are cool, remove from pans, apply crumb coat of frosting, refrigerate for 30 minutes and apply final coat of frosting. Decorate with the broken heart candy.
Vanilla Buttercream Frosting
yields about 5 cups
What You Need:
2 cups (4 sticks) butter, room temperature
6 to 8 cups confectioner's sugar, sifted
1/2 teaspoon salt
1 tablespoon vanilla paste (can sub vanilla extract)
4 to 8 tablespoons milk
copper colored food coloring (or any color you like!)
What To Do:
In the bowl of a standing mixer fitted with a paddle attachment, beat the butter on medium speed until creamy. Reduce the speed to low and gradually add 6 cups of the confectioner's sugar. Add the salt, vanilla paste and 4 tablespoons of milk. Beat for 2 minutes. If the frosting is too thin, add more of the sugar (1/2 a cup at a time). If the frosting is too thick, add more of the milk (1 tablespoon at a time). Stir in a little food coloring at a time until you get your desired color. Refrigerate the frosting for a few minutes before using.
*Vanilla sugar is sugar that has been with a vanilla bean in a jar for a few weeks imparting a mild vanilla flavor


Recipe and Styling by Libbie Summers
Photography by Chia Chong