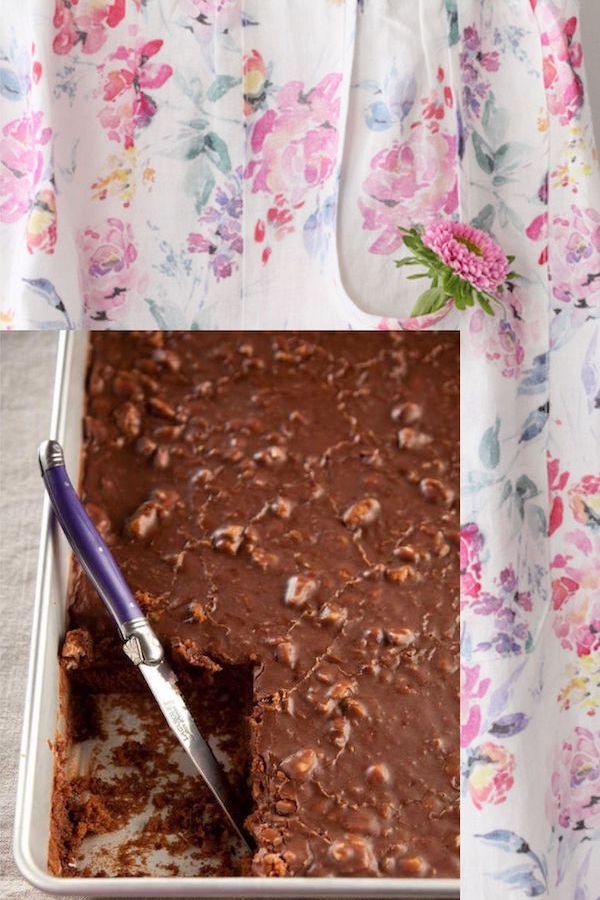 Best Ever Family Reunion Chocolate Sheet Cake
Serves 20
What you need:
2 cups all-purpose flour
2 cups sugar
1 teaspoon baking soda
1/4 teaspoon ground cinnamon
1/4 teaspoon kosher salt
3/4 cups (1 1/2 sticks) unsalted butter
1/4 cup leaf lard or vegetable shortening
1/4 cup good-quality cocoa powder
2 large eggs, beaten
1/2 cup buttermilk
1 teaspoon vanilla extract
Bacon Pecan Icing (recipe follows)
What to do:
1. Mix Dry Ingredients: Preheat the oven to 350 degrees F. Grease a 15 1/2 by 10 1/2 by 2-inch baking pan and set aside.
In a large mixing bowl, whisk together the flour, sugar, baking soda, cinnamon and salt.
2. Mix Cocoa, Fats and Boiling Water: In a medium saucepan over medium heat, melt the butter and lard. Bring 1 cup water to a boil in a separate small pan.  Whisk the cocoa powder and boiling water into the butter mixture over the dry ingredients.  Stir until just combined.
3. Finish Mixing Cake and Bake: In a small mixing bowl, whisk together the eggs, buttermilk, and vanilla.  Add to the cocoa mixture and whisk until fully incorporated.  Pour into the prepared baking pan and bake for 15 minutes, or until set.
4. Frost Cake: Frost the cake while it's still warm.  Let the frosting set up for 10 minutes before serving.  Serve warm or at room temperature.
Bacon Pecan Icing
yields 3 1/4 cups
What you need:
14 tablespoons (1 3/4 sticks) unsalted butter, room temperature
1/4 cup good-quality cocoa powder
1/2 cup buttermilk
1 teaspoon vanilla extract
3 1/2 cups confectioners' sugar, sifted
1 cup pecans, toasted and coarsely chopped
4 slices bacon, cooked crisp, finely diced
What to do:
Put the butter, cocoa powder, buttermilk, and vanilla in the bowl of a stand mixer fitted with the whisk attachment and whisk until all the ingredients are fully incorporated.  Add the confectioners' sugar 1 cup at a time, mixing thoroughly after each addition.  Remove the bowl from the mixer and stir in the pecans and bacon.
By Libbie Summers from her book, The Whole Hog Cookbook (Rizzoli)
Photography by Chia Chong