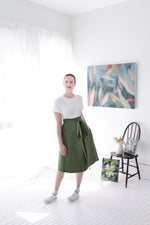 St. Patrick's Day
Your eyes open on a bright spring morning being attacked by the kind of tiny pinches that barely grab your skin yet somehow hurt the most. After disengaging from the onslaught of "You're not wearing green!" you head to the kitchen for just the right pick me up for a day that will certainly end in drunken encounters with "Erin go Bra-less" tourists who are about as Irish as the Queen of England. Tying on a Green skirt and tucking some basil

behind your ear

as you head out the door, you decide to take the long way to work... just to

see Forsyth fountain

in all of her green glory.