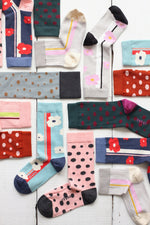 Socks
Gina is a friend of a friend.
Gina is a sock makers daughter.
Gina practices green living and wanted to combine her passion for the environment with sock making.

Forgive us Gina, but we thought we would never love a "green living" endorsed sock. It had to be boring and brown. We just knew it. The only runway those kind of socks would be on was the Appalachian Trail right?! Man, were we wrong. We fell in love with Gina's socks and her story. 

Gina is a Southern business woman with an eye for fun, comfort and style. 
Gina manufactures organic cotton socks in small batches employing many folks across the Southern USA. 
Gina is a rockstar. 
Damn Gina.