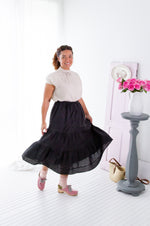 TIERED A-LINE MIDI SKIRT
Risha was an Alvin Alley dancer before she started styling photos for high gloss magazines. She pas de bourrée couru into our studio for a day to see just how well our Tiered A-line Midi Skirt could twirl...and boy did it twirl. 
This modern nostalgic tiered skirt is one you'll reach for again and again. Available in two sizes (with ample on-seam pockets and a cinching elastic waist) for a "just perfect" fit to accommodate most bodies. Pair it with our Linen Shimmy Slip if you feel like you need a little something between skin and skirt. Risha didn't.