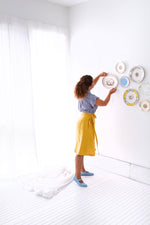 LINEN WORK SKIRTS
Basically THE skirt that looks great on everyone. 
Impeccably sewn of gorgeous washable linen in the perfect weight that works for work or play. A flattering higher-waisted wrap and a length that magically works on any height. Side pockets (always), extra-long ties and extra front wrap fabric make this apron skirt work for a multitude of body types. A staple for any wardrobe, we have been told that wearing our A-line Apron Wrap Skirt makes you feel "everyday beautiful" -EXACTLY what we were going for.
A LIFETIME PIECE. DESIGNED AND HANDMADE IN THE UNITED STATES BY INTRIGUING WOMEN.